Auto Careers of Arizona specializes in providing services to help find and develop staff for the automotive dealership industry in the Phoenix metropolitan area and the nation, bringing leading automotive employers and extraordinary automotive job seekers together.
Our experienced staff understands the intricacies of the auto industry. We know how to find highly skilled, qualified people in all dealership roles, including sales, management, service, parts and finance. From entry level to the most senior-level positions, we can locate the best quality candidates from around the country.
About Zac Angelowicz, Managing Director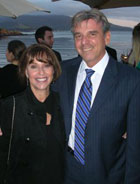 Zac Angelowicz is a recognized Automotive Industry Specialist, with over 40 years of Experience. He worked for two of the Largest Privately held Auto Dealer Groups in the World for over 10 years (Larry H Miller Group and Van Tuyl Group).
Previous to that he was the Founder and Owner of Polyglycoat of Arizona, a nationally recognized car Care Company. Zac is Married for over 40 years to Mona and has two Grown Children, Ami and Adam, who live and Work in NYC. Zac is passionate about People and considers himself an Expert at "Putting a Square Peg in a Square hole and a Round Peg in a Round one".